The first all-in-one weather station
designed for turfgrass
Optimize your time and inputs through data
Greenkeeper-tailored to fit all the turfgrass needs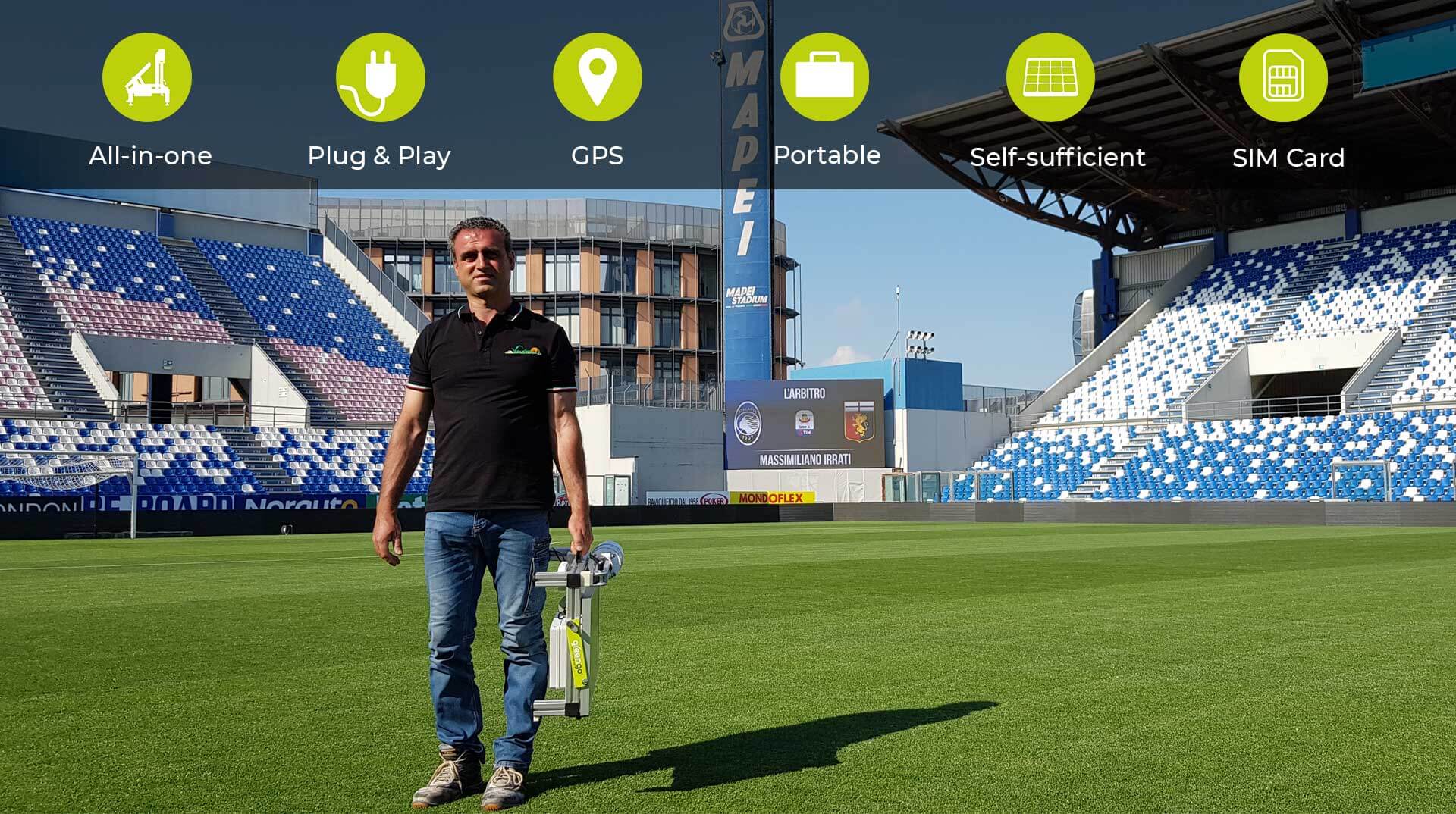 The GreenGO unit is an All-in-one weather station, fully equipped with sensors to measure from air to soil, from light to precipitations.
All the sensors are research-grade, so you can just analyze the data without worrying about their reliability.  
The Plug & Play design makes it completely portable and easy to deploy.

Thanks to its lightweight (10 kg), it's very easy to move during turfgrass operations such as mowing or treatments.
The solar panel lets the unit work without interruption at any latitude, in any season. No battery change is required.
The SIM Card send data every 5 minutes so you can see what your turf is feeling in real-time
Acquire, analyze and act in real-time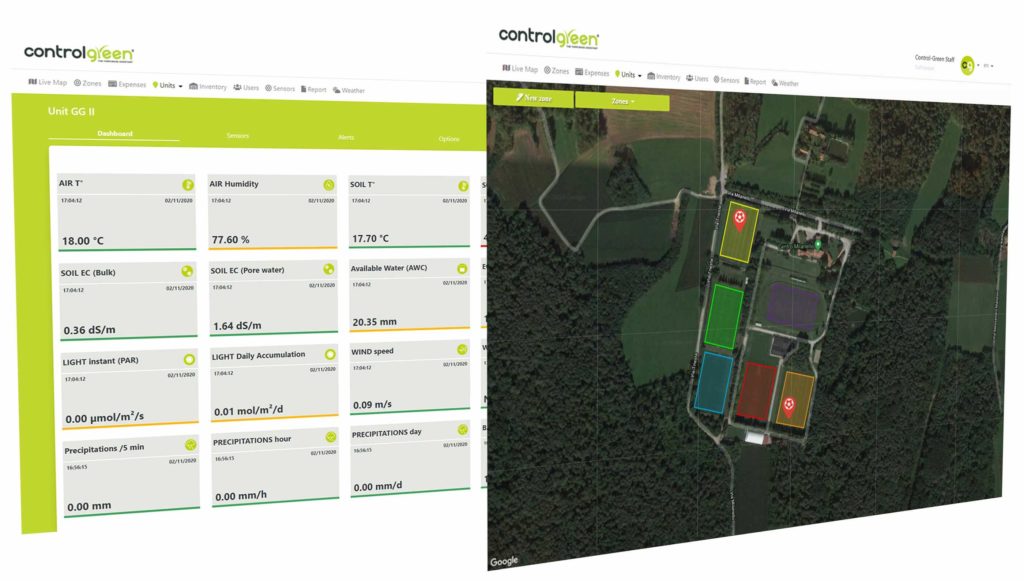 Maps and data to understand how your turf is feeling on Control-Green App
Check your GreenGO unit position to understand if acquired data came from shaded or sunny areas. 
Set Field Capacity and Wilting point accordingly to your soil specifications and keep your substrate healthy for your turfgrass growth and save water. 
Other available features ranging from reports to data analytics, from multi-users account with different permission to smart alert.
Control-Green is more than an App to check the data coming from your unit, it is a support system for your turfgrass, analyzing data and helping you to take decisions. 
Take your turf management to the next level
A study carried out by Sant'Anna School of Advanced studies has certified the savings obtainable with GreenGO unit
The study has been performed on football pitches and a golf greens with high-standard maintenance
CO2
less input, less machinery, less CO2
GreenGO unit has turned out to be a game-changer on the football training facility. With multiple microclimates throughout our property it has given us the ability to track evapotranspiration and soil moisture all over the facility. The ability to see significant data and the correlation between them gives us immediate insight on what is happening.
"The Green-GO data tells me how the plant feels and how it recovers. It's giving me the right amount of information to ensure a better playing surface. Groundsman is a hard-day-to-day work where Green-Go helps me to face it off."
Artificial lights are becoming standard in turfgrass stadium management. Green-Go is a fundamental tool to know plant light requirements (mol m-2 day-1 - DLI) and consequently artificial lights usage time. Last year I removal artificial light one month before than expected saving time and money".
Water usage in sports turfgrass can be reduced by 20-30% keeping the same high standard turf quality required. Real-time evapotranspiration enables me to better match irrigations with the requirements of actively growing plants, thereby improving the rooting depth and water productivity. "
"I love the dashboard. I have all turfgrass data and graphs in my mobile every time I needed with a user-friendly interface. I'm used to checking data in my bed before falling asleep. My wife still think I have a lover"
GreenGO unit is built to last 10+ years in any environmental conditions. It is innovated and singularly hand-crafted to offer a rugged weather station for any agro-climatic application. 
Connectivity
GSM bands
UMTS bands
Communication method
Communication security
Cellular
Quad-band
800, 850, 900, 1900, 2100
HTTPS
SSL/TLS
Air
Soil
Wind
Rain 
Light
Canopy
Temperature, Relative humidity, Vapour and Barometric pressure
Temperature, Water content, EC (Bulk & Pore), Available water content (AWC)
Speed, direction
Daily, hourly and 5 minutes 
Instant PAR, DLI
Evapotranspiration
IP ratings (Ingress protection)
Certifications
IP67, IP68
RoHS, CE, FCC, CCC
Battery
Lead-acid weight
Capacity
Operating voltage
Lead-acid rechargeable
4,2 Kg
72000 mAh
12V